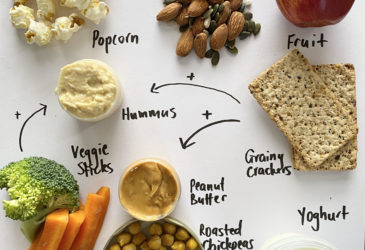 Roasted chickpeas
These make a nutritious and tasty snack, and are really easy to make!
Have them on their own as a snack or add to salads.
1. Heat oven to 200deg celcius
2. Drain and rinse a can of chickpeas in a sieve
3. Pour the chickpeas into an oven tray lined with baking paper
4. Drizzle a little olive or canola oil over the chickpeas
5. Add herbs and spices: ground cumin, ground turmeric, curry powder,
ground paprika are all tasty options
6. Bake for 10 – 15 minutes until chickpeas are roasted and slightly crispy
Popcorn
Popcorn is a fun and easy snack for tamariki and did you know it's also
high in fibre? So easy and cheap to make yourself, and much healthier too.
1. Pour olive or canola oil into a pot, covering the bottom by about 1cm in
depth
2. Put three corn kernels into the pot
3. Turn element onto a high heat and wait until the three corn kernels have
popped- this is how you know the oil is at the right temperature
4. Pour the rest of the corn kernels into the pot and put the lid on
5. Jiggle the pot back and forth over the element and hear the popcorn pop!
6. Once popping stops pull off the heat.
7. Top with a little extra olive oil for flavour and a sprinkling of salt.