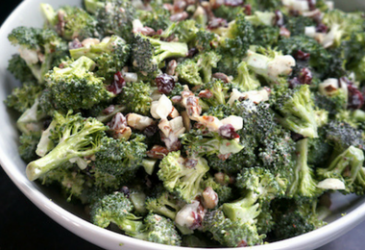 Broccoli, 1 large head or two small heads, chopped into small florets

Apple, (e.g. Braeburn or Granny Smith), cored

Lemon, juice of 1

Almonds, sliced, slivered or chopped, ⅓ cup

Dried cranberries, chopped,  ¼ cup

Spring onions, 2 finely chopped
Dressing
Natural yogurt, ¼ cup

Mayonnaise, 2 tablespoons

Apple cider vinegar, 1e teaspoon

Liquid honey, ½ teaspoon

Salt and pepper
Place broccoli florets in a large heatproof bowl and pour over boiling water to cover.  Leave for 5 minutes or so to lightly cook.  Meanwhile, get a large bowl of iced water ready.  Drain broccoli and place in bowl of iced water (this helps the broccoli retain its bright green colour and crunchiness).

Thinly slice apple, then cut into thin matchsticks and place in small bowl.  Squeeze lemon juice over to prevent browning.  Lightly toast almonds in a dry fry pan (no oil) on medium heat, shaking the pan frequently to avoid burning, for 2-3 minutes, until light golden.

Mix dressing ingredients  together and season with salt and pepper.

Drain broccoli well and toss with apple, cranberries, spring onions and half of the dressing.  Drizzle with remaining dressing and scatter almonds on top.