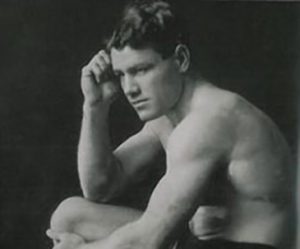 Part of the Pride of Gisborne's "Famous Faces" collection, 2002
Thomas Heeney was born in Gisborne in 1898 and was educated as St Mary's and Te Hapara schools. He then worked as a plumber.
A powerful swimmer, in 1918 Heeney was awarded a medal for rescuing two young women off Waikanae Beach.
He was also a representative rugby player; he was in the 1921 Regional team that played South Africa.
Heeney's father taught his sons to box and Tom showed great talent. He became a professional boxer in 1920 and in October that year he won the New Zealand Heavyweight title.  Tom relinquished the title in 1922 when he went to Australia for a short time to gain boxing experience. After some success there he returned home, regaining the heavyweight title soon after. He lost the title in a further bout, his only defeat in New Zealand, but subsequently won it back yet again.
In 1924 Tom Heeney went to Britain, where he had indifferent results, and South Africa, where he won four out of his six fights. He returned to Britain and beat the Irish champion.
This and other successes encouraged him, in 1926, to try his luck in America.  Heeney steadily rose to be ranked fourth among the world's heavyweights.
In 1928, known as "The Hard Rock From Down Under", for his stamina and determination, Heeney fought for the world heavyweight Championship against Gene Tunney. In front of 46,000 spectators he entered the ring wearing a Maori cloak sent to him by Sir James Carroll's widow. He fought with great courage but he had little chance against the sinful Tunney and the fight was stopped in round 11. He remains the only New Zealand-born challenger for this title.
A week later Heeney married American Marion Dunn. The couple visited New Zealand shortly after. Heeney was greeted as a hero, especially in Gisborne.  Once back in America Heeney became an American citizen and continued to box until 1933.
Of his 69 professional bouts he won 32, lost 22 and drew 10.
After retirement Heeney owned a restaurant in Florida. He made further visits to family in New Zealand in 1947 and 1984.
Tom Heeney died in Miami in June 1984. Marion had died in 1980. There were no children from the marriage.