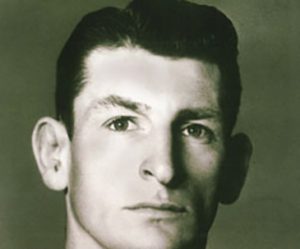 Part of the Pride of Gisborne's "Famous Faces" collection, 2002
Richard White was born into a Poverty Bay farming family in June 1925. He attended Ngata Primary School, Gisborne District High School and Fielding Agricultural College, where he gained the nickname 'Tiny'.
A hill-country farmer all his life, Richard served in the Japanese Occupation Force from 1946 to 1948.
Once home he represented Poverty Bay in rugby from 1949 to 1957. Simultaneously he was Poverty Bat's first ever All Black, playing for the national team between 1949 and 1956. He never missed a test match, playing 23 in all. He played a total of 55 games for New Zealand and on one tour he played 30 of 36 matches, more than any other player. Whilst an All Black he scored 11 tries – 30 points in all. He stayed on the field for all of every game: "I only left the field once and that was in my last game".
Tiny White's many skills included his exceptional springing jump at line-out, helped by the fact that he was very tall, his acute sense of anticipation, his speed, stamina and strength. His towering height helped him to leap higher in line-outs and remain airborne longer, utilising his individual two-handed catching technique. He attributes his durability on the field to his training regime of running over the hills on the farm, sometimes 170 kilometres a week. He went into each ruck or scrum picturing where the play was likely to go. "My greatest love in playing the game is to outwit the opposition".
Tiny White's international career ended when he was 32 with a kick in the back. This added to the existing farming injuries, which were causing him back pain and partly paralysing his left hand – the best kept secret of the time.  He continued to play club rugby. He played once more for Poverty Bay. He coached the game and served one season as the PBRFU President.
Richard 'Tiny' White became active in civic affairs. He was Mayor of Gisborne for two terms from 1977. He was also involved with the Queen Elizabeth II National Trust, the Order of St John and the Hospital Board for many years, among other interests. He was awarded the QSO for Public Service in 1998.
Married to Elsie, Richard 'Tiny' White has three sons and two daughters. He lives in Gisborne.