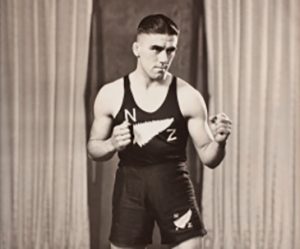 Arthur John Heeney was born at Gisborne on April 22, 1916, to Jack and Greta Heeney (nee White) of Irish and Ngati Awa descent.
He was educated at St Mary's and Marist Brothers schools in Gisborne and later at Sacred Heart College in Auckland. From an early age he was commonly known as Darcy Heeney, after renowned boxer Les Darcy.
His father Jack, a blacksmith, was New Zealand amateur welterweight boxing champion in 1914 and turned professional several years later.
Darcy's Uncle Tom Heeney pursued a professional boxing career in Australia, Britain and the USA, culminating in an unsuccessful tilt at the world heavyweight title against Gene Tunney at New York's Yankee Stadium in 1928.
Darcy developed into an outstanding sportsman. A halfback, he captained the Poverty Bay colt's rugby team and in 1939 he captained the Gisborne Marist side that won the Poverty Bay senior championship.
However, boxing was the sport in which he really excelled. He benefited from a family pedigree in the sport, as well as able tuition from father Jack and Sam Bardwell. He won the New Zealand amateur welterweight title three times – in 1937, '38 and '39 – and was the first amateur boxer in New Zealand to successfully defend his title twice in succession.
Darcy was selected for the New Zealand boxing team for the Empire Games (later known as the Commonwealth Games) at Sydney in 1938. This was the first time New Zealand had sent a boxing team to the Games.
He won the silver medal in the welterweight class, losing to William (Bill) Smith of Australia in the final. Eighteen-year-old Smith was regarded as a clever fighter whose major assets were his speed and reach. He won Australia's only boxing gold medal at those games and was the first Tasmanian to win an Empire or Olympic Games gold medal. He was also selected for the 1940 Tokyo Olympics, which never took place because of the war. Smith turned professional and won all nine of his pro fights before he retired in 1941.
Darcy Heeney enlisted in the Royal Navy after the outbreak of World War II. An engineer by trade, he served as an Engine Room Articifer on several British ships in Europe and was fleet boxing champion in his weight division.
He died on December 19, 1941, when HMS Neptune, the cruiser on which he served, sank in an enemy minefield off the coast of Tripoli. Several hundred crew died. Two officers and 148 ratings were New Zealanders and this toll still represents the greatest loss of life in one engagement in New Zealand naval history. Only one person survived the sinking.