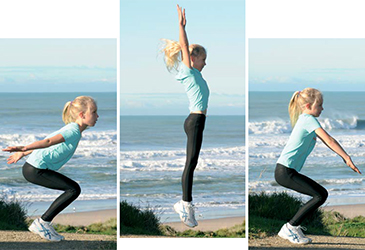 The vertical jump is a locomotor skill that involves being able to jump as high as possible.
The vertical jump is related to a wide range of sports, games and physical activities. It is considered to be a more fundamental movement skill than the standing broad jump.
Look up.
Focus your eyes on where you want to go.
Get ready to explode up high, get ready to take off.
Swing your arms back and up.
Straighten your legs when in the air.
Bend your knees on landing.
Control your body and balance yourself when landing.
Land with feet shoulder-width apart.